All the answers to the most played word game in history 4 pics 1 word in one place and also fully updated.
How many letters is the word you're looking for?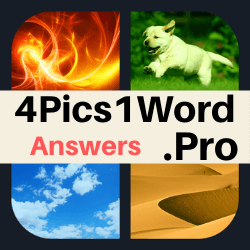 What is 4 pics 1 word?
4 pics 1 word is a game or mobile application (app), created by the company Lotum of Germany. It is a word game, in fact it is the most played word game in the history of mobile apps.
What's the game about?
The game consists of thousands of levels, each one has 4 pics or photos and a few gaps and letters available, with which you have to guess the word related to those pictures.
The game follows the freemium model, meaning that it's free to download and play and is monetized through ads and purchases within the app. In fact, one of the purchases is precisely to have the ads removed.
There have been many updates with daily levels or thematic levels. To this day 2020 is still the most played word game in history.
What are you waiting for to start having fun while you work on your neurons and keep your mind young?
Playing this kind of word games is not only for fun, we also exercise our brain helping to improve different qualities such as memory or logic.
4 pics 1 word is precisely among the different word games that can be found in the App Store and in Google Play, the most played in the world, and this is for a reason.
Not only because it was one of the first in its style but also because it has not stopped being constantly updated, adding new levels very funny to continue enjoying.
If you want you can invite a friend to download the game in the following links you will find it.